Giving is an act of the heart. You contribute concretely to improving the quality of life of French-speaking adults with diminished autonomy.
It's amazing what you can do with just a small amount of money. Your help can make a real difference in the lives of those who need it most.
You can make a donation:
To honour a birthday, wedding or other celebration
In memoriam of an individual who has made a difference in your life
For general donation to support our mission or
Join our montly Donor Club.
There are many ways to donate.
Donate online: It's easy and fast. Click on the button to have access to the page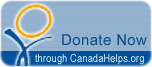 Donate by mail: Print and complete the general donation PDF form or In memoriam PDF form and return  it to the address below:
Centres d'Accueil Héritage
33 Hahn Place, Suite 104
Toronto, ON
M5A 4G2
Donate by phone: Call Jean Tete at (416) 365-3350, ext. 242 during normal business hours.  Please have your credit card number ready. We accept VISA and MasterCard .
Thank you for your support!
Downloadables